Social Media is hot. Facebook, Twitter, Instagram, everybody uses different channels nowadays. People cannot live without social media anymore, and companies know that too. That is why companies use social media channels to reach their potential clients. The last years we could see already a lot of things changing, especially the increase in advertising on different social media channels The coming years it is not going to stop and more trends are coming. Below you find 10 trends in social media to be prepared for in 2018: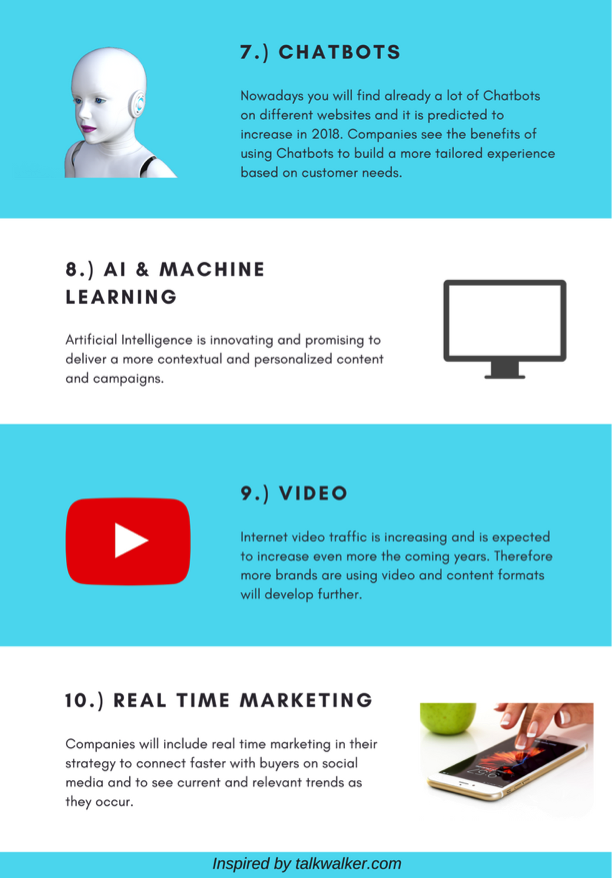 Advocacy Marketing
By using different brand ambassadors like customers, employees and partners to talk about the company and its products, it is possible to increase word-of-mouth.
Shopping on Social
Nowadays the media formats are getting more innovative and therefore companies can create a more immersive shopping experience for online shoppers.
Voice Search
People are using their smartphones every day, all day, even for questions. That's why content is optimized and increased for voice-led search behavior like Alexa, Siri and other Intelligent Agents (IA's)
Personification
Rules of GDPR are getting stricter and therefore companies make sure they do not expose individual identities while they deliver relevant campaigns to audience segments.
AR Ads on Social
Augmented reality is creating a new target market on Social Media for advertising to create immersive engagement and experiences.
Ad Fraud
More ad fraud is happening and that's the reason why big brands demand more transparency.
Chatbots
Nowadays you will find already a lot of Chatbots on different websites and it is predicted to increase in 2018. Companies see the benefits of using Chatbots to build a more tailored experience based on customer needs.
AI & Machine Learning
Artificial Intelligence is innovating and promising to deliver a more contextual and personalized content and campaigns.
Video
Internet video traffic is increasing and is expected to increase even more the coming years. Therefore more brands are using video and content formats will develop further.
10. Real Time Marketing
Companies will include real time marketing in their strategy to connect faster with buyers on social media and to see current and relevant trends as they occur.
As can be seen in the different trends, some are already out there, but more companies are expect to use them by 2018. Other trends are completely new and can take some time before we will see them in the coming year. This shows the possibilities with social media are endless and we can expect even more trends to develop the next years.