Back to school shopping season is the second biggest high shopping period after the winter sale. Shopping for back to school bag, clothes, pens, pencils, notebooks, tech products… This season can be a nightmare for parents. Every year parents are turning to technology to guide them to the best, easiest and the most affordable prices.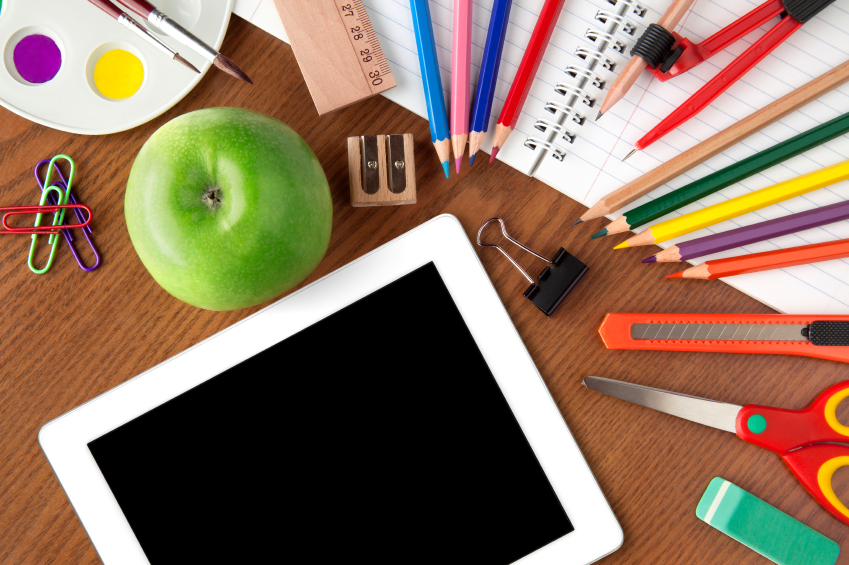 The average expenses are also increasing each year. In 2016, the back to school checklist resulted in almost a thousand euros per child. Things are getting even crazier if your child is starting its freshman year in college; it can cost more than one thousand four hundred euros per freshman.
I bet parents are remembering their times with encyclopedias accessible only from the local library. However, wake up parents! You are the parents of millennials! Of course, they need a tablet or a smartphone to google something quick for their homework.
Back to school season is like a war in between retailers. That's why I am calling it "the holy seasonal sale". Since retailers are making most of their revenues at this time of the year, it is very vital for them. So on this blog post, we will try to give you some Back To School 2017 Tips on how you can compete better and win the competition.
First of all, here is some parental "back-to-school season" shopping behavior point outs.
Let's start with a basic one. Every parent has a back to school list. Not buying is out of the question. Therefore the demand is there. Don't forget, this season is an exciting period for both children and parents. Children are enthusiastic about starting a new class however for the parents it is more complicated and even bigger. It is another journey on their parenting era.
Second important thing is to know the impact of mobile buying behavior. Research shows that even in 2015 60% of parents said that they made mobile "back-to-school" shopping at least once. 30% said they used mobile shopping for a fourth of their shopping.
To put things into perspective; Amazon, FOR THE FIRST TIME, IS AHEAD OF WAL-MART IN OVERALL SHARE OF WALLET.

As I mentioned before, back-to-school shopping is a holy season. Not only colorful pens, notebooks, pencil cases, bags are on demand. Half of the parents are planning on shopping for tablets for their kids at kinder garden. Don't think that Apple is going to beat the competition here and you do not need to be out there. 79% of the college students are looking for a PC over a MacBook. 57% prefers to buy Androids rather than iPhones.
Why are we telling you all these? Digizoom is trying to prepare you for this coming/already happening shopping madness. Here is a quick checklist for your brand and their how-to's;
Is your website ready? Is it visually appealing and user-friendly? Is the buying circle complete and working well?
Are you visible on search engines? Does your target audience know that you are out there?
If you are shaking your head up and down, you are ready to go. If sideways, you really have to call us right now!
GETTING PREPARED – WEBSITE

For starters, you have to know that parents have product goals and they do not have that much time. So you have almost no chances to make mistakes like having broken links. The first question you have to ask yourself is if your website is responsive in a way that it is offering your back-to-school products in a clean and a neat way. No need to make things complicated.
Second important question is if it is mobile friendly. Most of the parents are shopping on mobile as mentioned before (in 2015 %60 bought once on mobile). 20% of those are doing this in between 9 pm and 1 am. 29% is doing this after work in between 5 pm and 6 pm, probably on their way home.
The most popular and must have product information are price, ratings & reviews, inventory, comparisons and pictures of course. Also, visualization is very critical. Your online customers cannot touch and feel your product. So try to be as narrative as possible.
GETTING PREPARED NUMBER TWO – PAID SEARCH ADVERTISING
Your business doesn't have to be selling school supplies only. You can be a spa and you can promote back to school campaigns for women who will have more time with the kids at school. You can be a hairdresser who is advertising for hair cut specials. Whether you are an eCommerce site or not, you have to be visible on the search engines and on the Internet.
You can do this in 3 ways.
1. GOOGLE ADWORDS SEARCH ADS

The reason why you should do this is to be visible when a parent searches for a specific product to buy. They are not going to surf on many websites to find the best, but they will click on the first ones. If it is promising enough, they will finish their order there.
You have to think about the keywords with the most popularity. Focusing on your Back-To-School Promotions and the intent of the prospective customer is important to decide on the keywords to use. Promise relevant things in your ad texts and leverage ad extensions with your qualifications.
2. DISPLAY ADVERTISING
You can drive targeted traffic to your website by using Google Display Network. The aim is to target parents who already have the intent to buy your product and forward them to your website or landing page. It is very effective.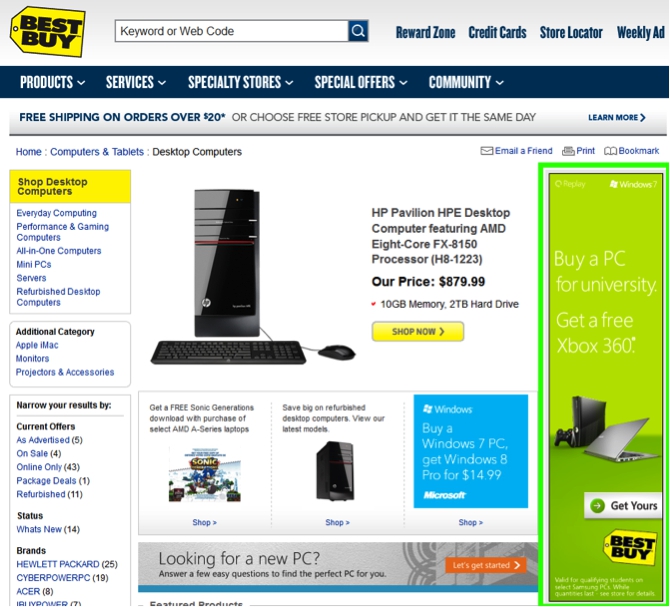 To achieve this goal, you have to create a salient banner and place it on the websites that your target audience is visiting the most. You can also target the topics, so only highly relevant ones will visit. If you can give a straightforward message along with a creative imagery, you can grab the attention. However, it is best for you to consult an experienced agency like Digizoom for this matter as well.
3. SOCIAL MEDIA ADVERTISING
You should make sure that your social media accounts are linked to your website and have high-quality content. In doubt, parents will check your social media accounts for reviews to reassure themselves before their purchase decision.
You can advertise on social media and target those who are likely to be the parents that you are looking for. By adding back-to-school specific information and visuals you can encourage engagement and, with the help of paid search advertising, you can make yourself visible.
You can come up with offers, distribute coupons and make promotions to increase the engagement even more. Although 75% of moms are doing most of the buying, men are spending more on average. So take a minute to think which one to target. Kids are also weighing in this decision process. 21% of back-to-school shoppers get influenced by their children. Parents cannot know which brand is going to be popular at school this year anyway, huh =)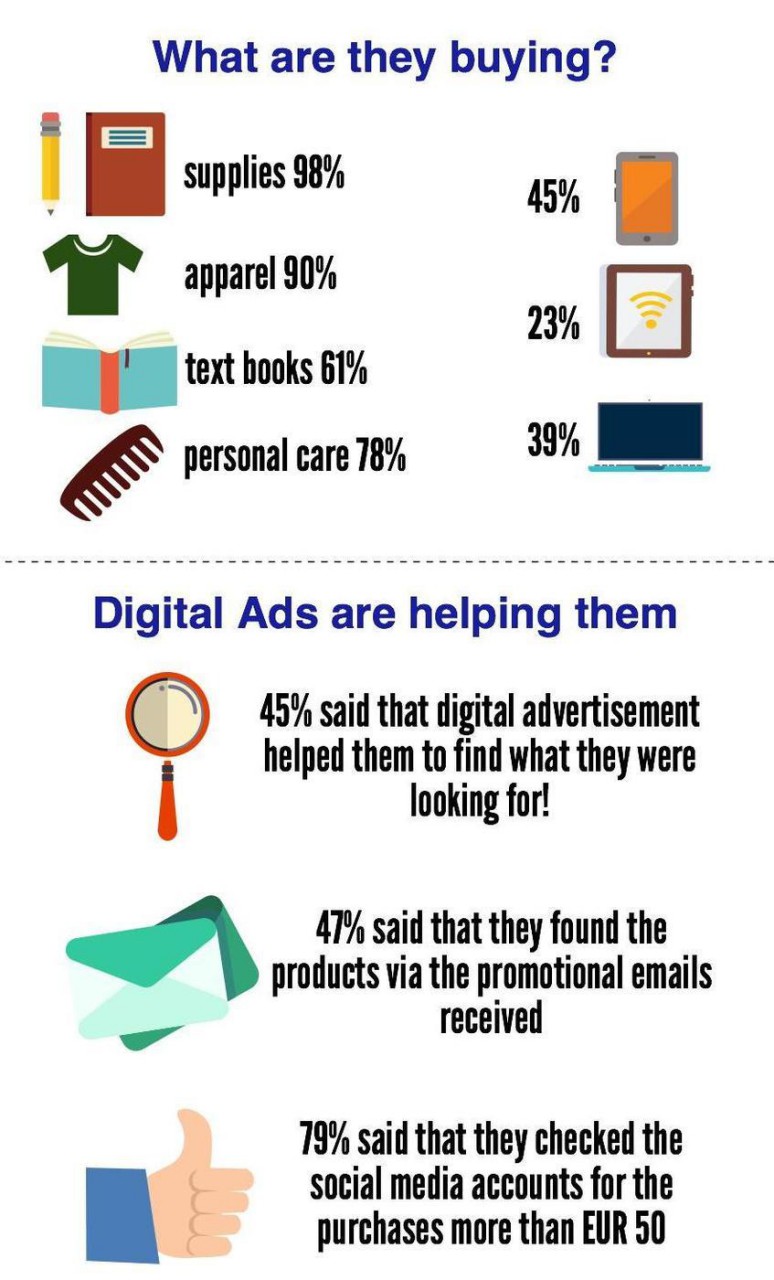 Why are we telling you all this? As I said before Digizoom wants to help you and increase your sales during the back-to-school season. Maybe you'd like to give online advertising a try and a back to school campaign is the perfect way to start. But think about if you want to create a competitive strategic and optimized account. We can help to create a digital marketing strategy along with maximizing the efficiency of your website. Moreover, we are very experienced in PPC campaigns. Email now to get started with Digizoom!
Bonus: 2017 Trend That Will Jumpstart Your Back To School Campaigns
With online advertising one thing, you should never loose focus of is who your customer is. Who are you targeting and where are they? Let me tell you, they are watching and reading reviews on these back to school products.
You may have noticed the increase in YouTuber content and the increase of Vloggers. Well, there are many that create content on the products that they purchase. The same goes for their back to school shopping. Videos like what's in my new schoolbag, back to school haul and similar videos watch time has increased by 10x on mobile according to Think With Google. Parents and Students watch these videos as they are easily digestible information and reviews on products.
What we do as an agency is find trends and turn them into opportunities for our customers. This season, by creating YouTube ads that show Back to school campaigns before these mentioned vlogger videos, we are able to target exactly who is interested in our products. So besides demographics and interests, we are fine-tuning our targeting to show up to specific viewers in accordance with our customers' needs. This is how we make a difference as a Digital Marketing Agency, for our Clients.