Hoe genereer je omzet met betaalde advertenties?
Zoals besproken in de vorige blog zijn er verschillende manieren om je website verkeer te verhogen en omzet te behalen. In deze blog komen de meest populaire betaalde advertenties aan bod en andere tips hoe je je eerste omzet kan genereren.
Google Ads
Mensen gebruiken de Google zoekmachine eigenlijk voor bijna alles. Als ze iets willen weten, als ze ergens naar op zoek zijn, als ze iets willen kopen etc. Met Google Ads, kan je website bovenaan de pagina worden weergegeven wanneer je potentiële klanten naar relevante termen zoeken.
Google Ads biedt een aantal verschillende opties:
Tekstadvertenties die prominent in de zoekresultaten worden weergegeven
Shopping-advertenties die uw productfoto en prijs in een meer op e-commerce gerichte indeling weergeven.
Display advertenties die in de vorm van banners worden weergegeven op andere websites die zijn aangesloten bij het Google netwerk.
Voer trefwoordonderzoek uit om het zoekvolume te bekijken voor termen waarnaar je doelgroep kan zoeken. Veel mensen vinden Google Ads intimiderend vanwege de gecompliceerde interface. Als je Google Ads wilt gebruiken om je webshop te promoten, maar je weet niet hoe, overweeg dan om een expert in te huren of cursussen te volgen.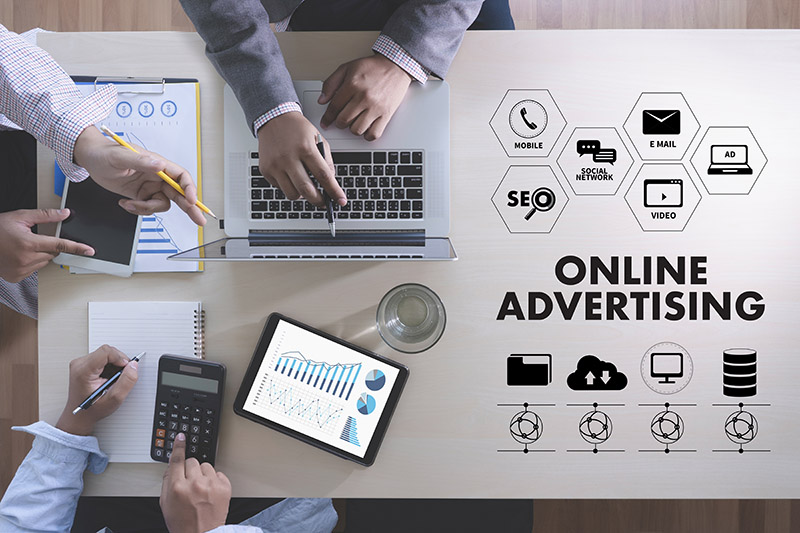 Facebook advertenties
Facebook een van de meest populaire sociale netwerken met de meest uiteenlopende gebruikers in termen van leeftijd, inkomen, geslacht en etniciteit.
Daarom kan een groot aantal merken gebruikmaken van de targetingopties van Facebook, zoals leeftijd, geslacht, functie, locatie en interesse om hun ideale klanten te bereiken.
Je kan targeten op interesse door bijvoorbeeld de pagina's die mensen leuk hebben gevonden op Facebook gebruiken als basis om ideale kopersprofielen te maken die bepalen wie uw advertenties bereiken.
Instagram-advertenties
Instagram is het beste social media platform om je producten visueel tentoon te stellen en te promoten. Dit platform groeit nog steeds enorm en is vooral populair bij millennials.
Het heeft ook een van de meest betrokken gebruikers onder sociale netwerken.. Het is niet alleen een geweldig platform voor influencer marketing, maar ook voor je reguliere onbetaalde berichten om een ​​groot aantal mensen te bereiken als je relevante hashtags gebruikt.
Promotie via Influencers
Grote merken zijn niet de enigen die beroemdheden kunnen gebruiken om hun producten op de markt te brengen.
Je kunt werken met influencers met een groot publiek in je niche om je merk en producten onder de aandacht te brengen bij de juiste doelgroep.
Er zijn influencers op elk kanaal, van YouTube tot Instagram. Met sommige influencers kun je direct contact opnemen en voor andere gaat het contact vaak via bureaus of influencer marktplaatsen.
Remarketing
De juiste doelgroep één keer benaderen is niet altijd genoeg voor een aankoop. Daarom is het essentieel dat je remarketing advertenties opzet.
Remarketing advertenties kan je laten zien via het Google netwerk, maar ook via social media platformen. Hierdoor kun je potentiële klanten benaderen die al eerder interesse hebben getoond in je producten via verschillende websites en social media platformen om ze een extra zetje te geven zodat ze terugkeren naar de webshop en een aankoop doen
Nadat je alle juiste advertenties inzet en de juiste doelgroep weet te benaderen kan het toch nog zijn dat ze geen aankoop doen, hoe kan dit?!
Naast de juiste doelgroep te benaderen via betaalde advertenties is het belangrijk dat de website goed in orde is, zodat mensen ook daadwerkelijk een aankoop gaan doen. Het moet makkelijk zijn voor een klant om iets op te zoeken en snel het product te vinden waar ze naar op zoek zijn. Daarnaast is het essentieel om de meest populaire betaalmethodes beschikbaar te hebben bij de check-out. Als je verschillende landen target, zorg er dan ook voordat je lokale betaalmethodes aanbiedt.
Door je websiteverkeer in Google Analytics te bestuderen kun je zien op welke pagina's mensen afhaken en dus kun je concluderen welke pagina's misschien wat aanpassingen nodig hebben. Zorg dat je dit goed in de gaten houdt, zodat je je website kan optimaliseren en hierdoor betere resultaten kan behalen.