Google has just announced a new study!
Why is Mobile Advertising so Important?
Google researches show that that 88% of ad clicks from mobile search are incremental to organic clicks. This is important and very critical warning for small businesses.
Report continues as "In 2011, we ran the "Search Ads Pause Studies," and learned that an average of 89% of clicks on search ads are incremental - meaning that this traffic is not replaced by organic clicks when ads are paused, and therefore is missed.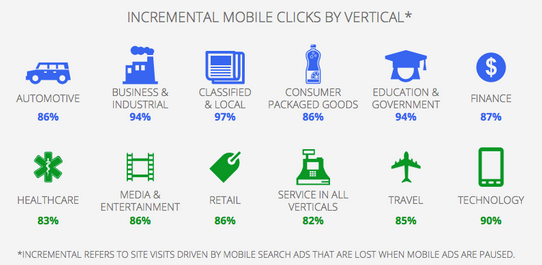 This year, we carried out the same studies on mobile search and learned that 88% of site visitors driven by mobile search ads would not otherwise click on the business's organic listing when ads are paused."
Web sites are getting better and better everyday and mobile adjusted websites has advantage in clicks. Besides tools and that build, organize and check websites are more mature than ever. So, although still counted, even best SEO is leaving a room for advertising.
Google research shows the importance of advertising on mobile whether you are a restaurant owner, a plumber, retailer or automobile brand.
* To start your mobile ads, contact with us.Digizoom Mobile Team is ready to set up and start running your succesfull mobile ads.
Get started today!